CROWDCONSULTANTS surprises with a total of 15x gold and 2x silver at the 2020 German Stevie Awards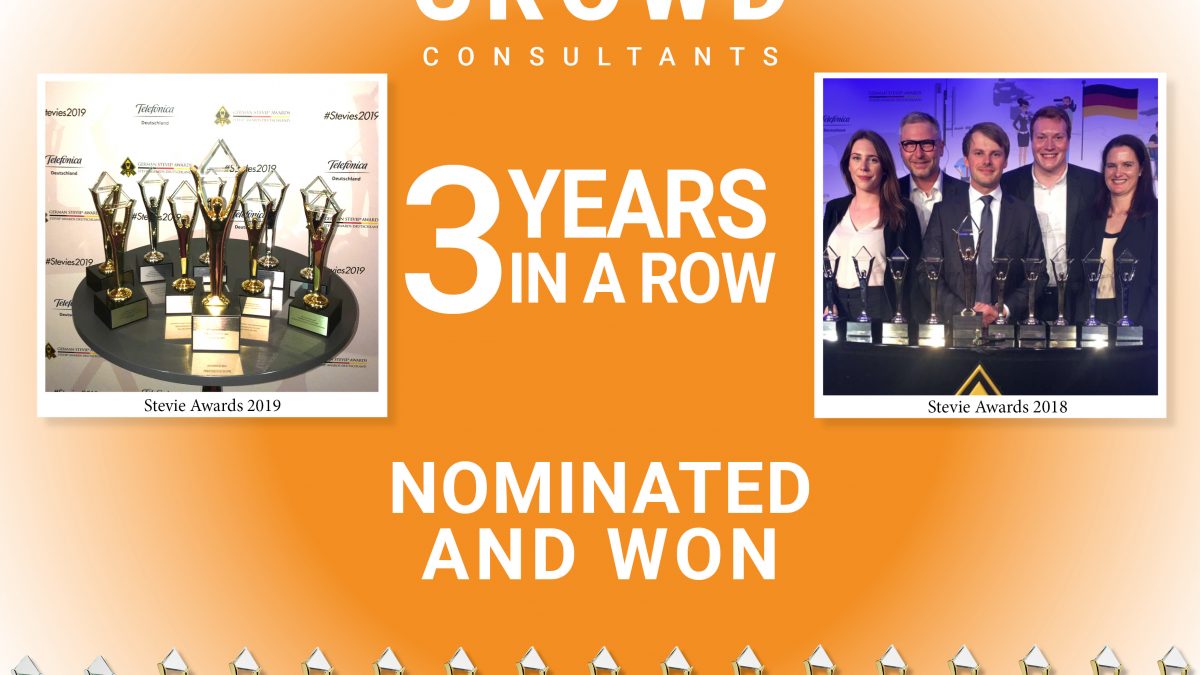 CROWDCONSULTANTS is proud to have convinced the jury of the renowned business award for the third consecutive year
Berlin, 06.03.2020 – "We are very pleased that this year we were able to convince the jury in completely different categories than in previous years. We are especially proud of our Communication- and HR communities, which have won several awards with the new employer campaign "Meet the Crowdies" and the new "Temp-to-Perm" recruitment service" says Peter Bachsleitner, Managing Partner and one of the founders of CROWDCONSULTANTS.
5 x Gold for "Meet the Crowdies"
CROWDCONSULTANTS recruits for interim and permanent positions with clients and itself. This and the unique New Work environment offering numerous flexible benefits, work in cross-generational teams and tandems as well as working hours based on trust, is not always easy to explain to candidates. In order to make the recruitment process personal and yet effective, the company, in cooperation with the agency YeaHR! has developed "Meet the Crowdies". A virtual reality application on the website answers frequently asked questions and in addition there is an open live video conference every 14 days, in which individual questions are answered by CROWDCONSULTANTS' team members.
"Meet the Crowdies" won CROWDCONSULTANTS a Gold Stevie for best HR department, best creative team, best brand management, best PR innovation, best corporate video and best webcast. The jury commented: "Great Employer Branding Project. Very likeable, authentic and unbiased. Shows that New Work is no longer about status (corner office) but about people, individual strengths and competences. A young and committed team has surpassed itself with this project. One would like to try it out right away."
This was also a special project for the network partner YeaHR! "We are especially proud of the approach that CROWDCONSULTANTS has taken with us here. Because it is courageous and in the sense of the Candidate Experience it is simply something completely different and innovative," commented YeaHR! Managing Director Andreas Herde.
"Temp-to-Perm" service also receives several awards
In addition to "Meet the Crowdies", the new B2B service "Temp-to-Perm" also received several awards. Here, CROWDCONSULTANTS combine executive search and interim management by searching fully success-based for interim and permanent placement candidates in parallel to fill clients' open positions.
"With so many awards, we are now eagerly awaiting the award ceremony on 8 May in Berlin. We very much hope that we will receive the Grand Stevie Award again this year – as the first company to receive it three times in a row", Peter Bachsleitner is pleased to say.
About CROWDCONSULTANTS
CROWDCONSULTANTS is a modern business network and pioneer in Consulting 4.0. In its consulting projects, the company focuses primarily on the integration of management and personnel consulting, crowdsourcing of cross-generational teams, consistent digitalisation, the principles of the Sharing Economy and self-determined working in the sense of New Work. This guarantees a high level of professionalism and competence combined with cost efficiency and sustainability as well as regular 5-star ratings by enthusiastic employees and satisfied customers such as the European Space Agency, EUMETSAT, DKMS, ING, Ionity, Knauf, SGL Carbon, STADA, Wittur and numerous start-ups. The company has received several awards, including Top Consultant 2019, the International Business Award and the Grand Stevie® as Company of the Year 2018 and 2019.
About yeaHR!
yeaHR! is a network partner of CROWDCONSULTANTS and one of the leading consulting agencies in the field of digitalization of the HR value chain. The company combines strategic know-how with digital and HR competence for clients such as Air Liquide, Bayernwerk, Carglass, EnBW, Porsche, RWE or Stroer. YeaHR! has received various awards for this, including HR Excellence Awards in 2017 as HR Agency of the Year, in 2018 for the Career Website and Change Project of the Year, and in 2019 for Recruiting Campaign and University Marketing of the Year. More about yeaHR! at www.yeahr.com
About Stevie Awards
Since 2003, the Stevie Awards have honored outstanding achievements of companies and the people behind them. Besides the German Stevie Awards, there are the Asia-Pacific Stevie Awards, the American Business Awards, the International Business Awards, the Stevie Awards for Women in Business, the Stevie Awards for Great Employers and the Stevie Awards for Sales & Customer Service. Together, the Stevie Awards programs receive more than 10,000 entries each year from organizations in more than 60 countries, each judged by a different panel of judges.
An overview of all winners of the German Stevie Awards 2020 and earlier years can be found at: https://stevieawards.com/gsa/gewinner-der-german-stevie®-awards-2020
Please do not hesitate to contact us if you have any questions:
peter.bachsleitner@CROWDCONSULTANTS.com
+49 151 16323946