CROWDCONSULTANTS WINS THE GRAND STEVIE AWARD FOR THE SECOND TIME IN A ROW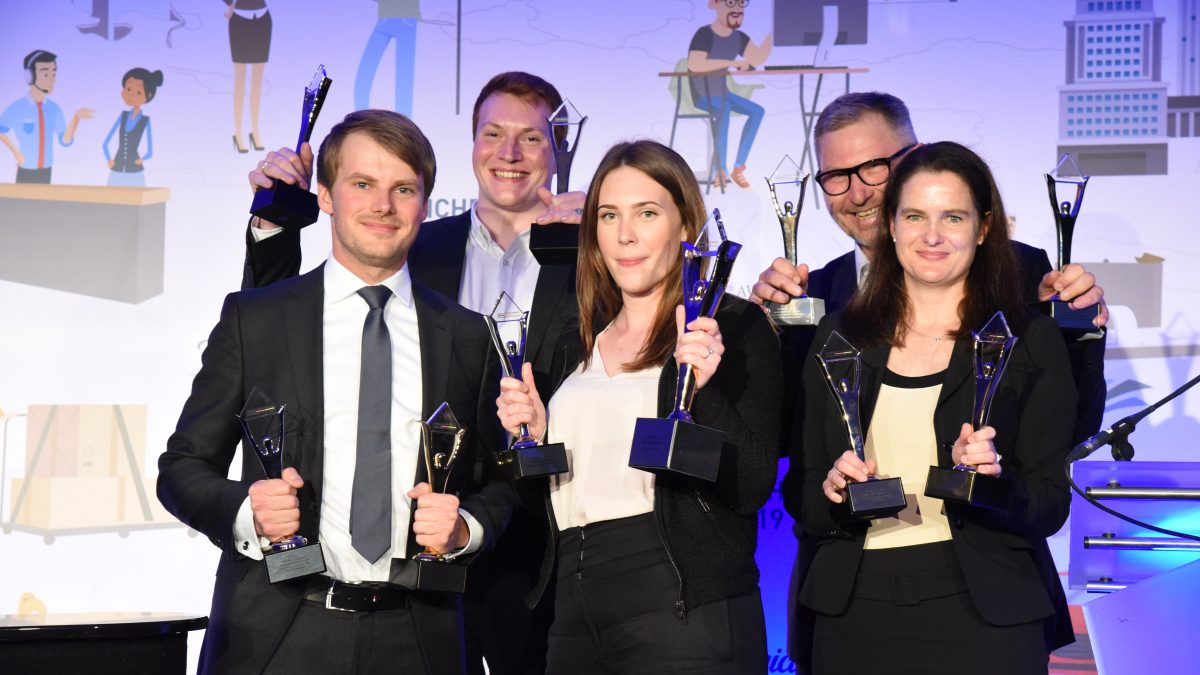 CROWDCONSULTANTS convinces the expert jury with a total of five gold and four silver Stevies at the cross-industry German Business Award
Munich, 3 May 2019 – "The fact that the jury has awarded us the Grand Stevie Award for the second time in a row makes our team extremely proud. The award confirms that we are successfully pioneering new working environments and Consulting 4.0," says Peter Bachsleitner, one of the founders of Crowdconsultants.
The company was founded in 2016 by him, his former Top Executive colleague Torsten Ecke as well as the Digital Natives Damiano Albrecht and Stefan Heidloff. It sees itself as an agile network of entrepreneurs that consistently focuses on cross-generational teams, crowdsourcing, digitization and the principles of the sharing economy when providing advisory and recruiting services to its clients. Former executives provide the necessary experience and young talents the knowhow in leveraging state-of-the-art tools in engagements for start-ups such as machtfit or yeaHR up to large international companies such as the European Space Agency or Knauf.
The company convinced the jury in a total of nine categories in particular with its contemporary strategic orientation and its special spirit as "Fab place to work". A 5-star rating at KUNUNU and Glassdoor as well as a constantly growing number of permanent and changing freelance "co-workers" testify to this. At this year's award ceremony in Munich, the Human Resources Team was again honored in addition to the founder and management team after 2018. "We have created a unique working environment, a new way of working together and a very special customer benefit. Our team is helping to shape a future of consulting that is more fun for clients and employees and offers more valuable benefits for all involved than the traditional consulting business," says Peter Bachsleitner, explaining the essence of the success.
Five gold and four silver Stevies for:
Management Team of the Year – Industrial Services (GOLD STEVIE® WINNER)
Founder Team of the Year – Industrial Services (GOLD STEVIE® WINNER)
Company of the Year in the areas of Diversified Services, Internet / New Media as well as Business Services (3 times GOLD STEVIE® WINNER)
Most Innovative Company of the Year – Up to 100 employees (SILVER STEVIE® WINNER)
Department and Team of the Year in Human Resources (SILVER STEVIE® WINNER)
Best new product or service and business-to-business services (2 times SILVER STEVIE® WINNER)
About CROWDCONSULTANTS
CROWDCONSULTANTS is an agile, cross-industry and cross-functional network of entrepreneurs and independent professionals that consistently focuses on crowdsourcing of cross-generational teams as well as digitization and the principles of the sharing economy. A core team of experienced recruiters and project managers supports clients in recruitment and transformation projects through a fast-growing network of experienced top executives, independent professionals, and digital natives. In addition to a broad range of recruitment services (advisory boards, interim managers, executives, specialists) the company supports the set-up and acceleration of start-ups as well as a broad range of international organizations with the design and execution of digitization initiatives.
About Stevie Awards
Since 2003, the Stevie Awards have honored outstanding achievements by companies and the people behind these companies. In addition to the German Stevie Awards (with over 80 categories), there are the Asia-Pacific Stevie Awards, the American Business Awards, the International Business Awards, the Stevie Awards for Women in Business, the Stevie Awards for Great Employers, and the Stevie Awards for Sales & Customer Service. Together, the Stevie Awards programs receive more than 10,000 applications each year from organizations in more than 60 countries, each of which is evaluated by a different jury of experts. An overview of all winners of the German Stevie Awards 2019 and earlier can be found at http://stevieawards.com/gsa/gewinner-der-german-stevie%C2%AE-awards-2019
For any further questions please do not hesitate to contact us:
Peter Bachsleitner, Managing Partner of CROWDCONSULTANTS
E-Mail: peter.bachsleitner@CROWDCONSULTANTS.com
Telefon: +49 151 16323946