CROWDCONSULTANTS cooperate with Kaiserring-scholarship holder Andreas Greiner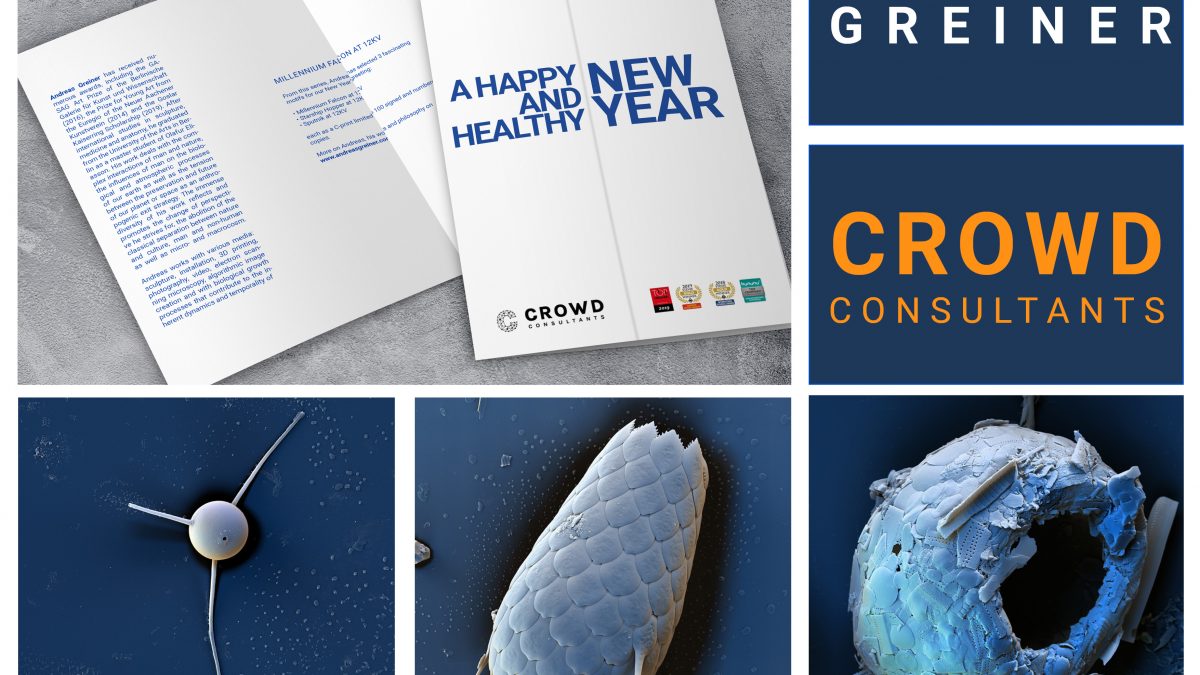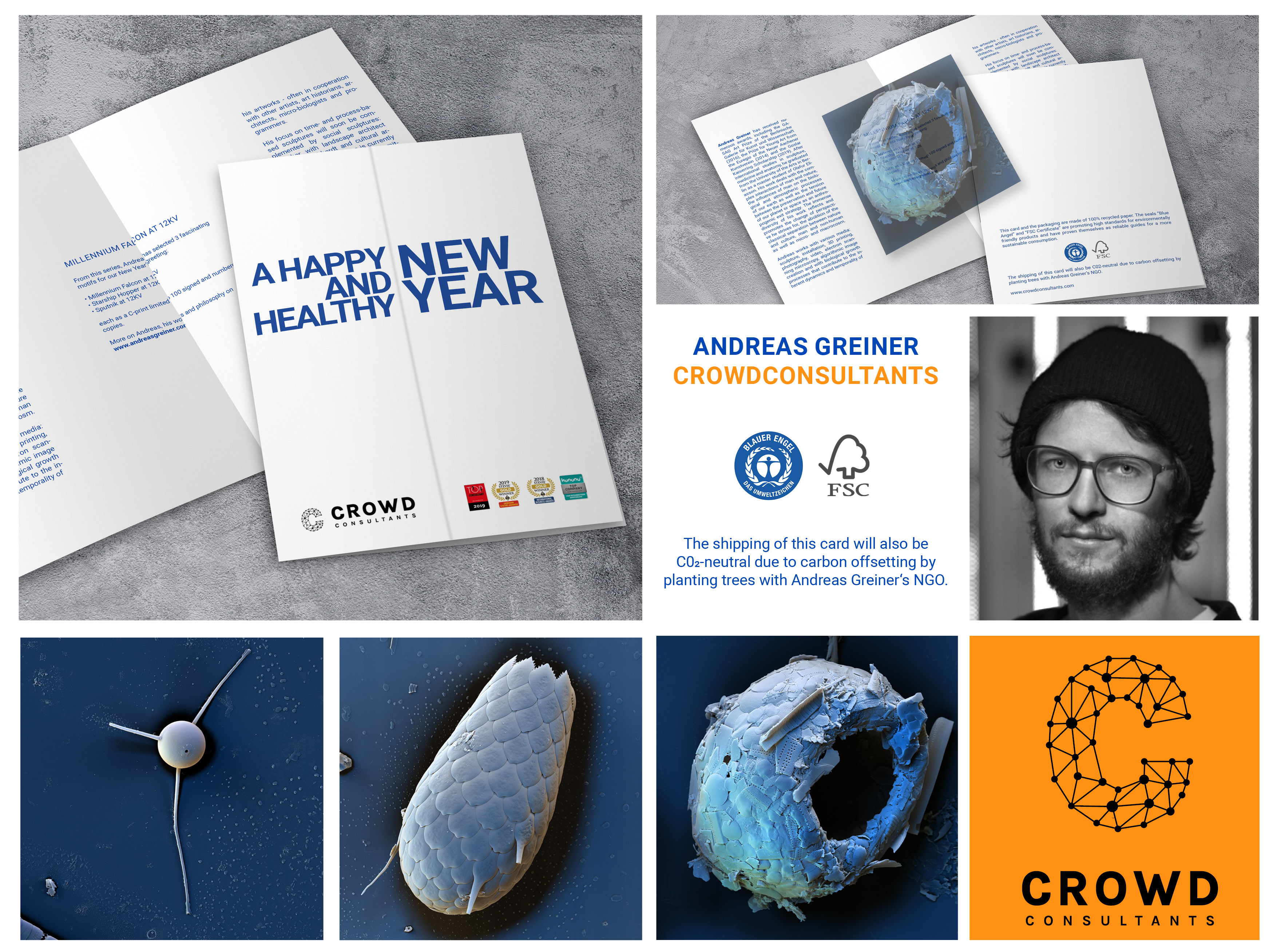 Sustainable, artistic New Year greetings
Berlin, 22.12.2019 – This year again, business partners of CROWDCONSULTANTS will be surprised with a special New Year's greeting. Berlin-based artist Andreas Greiner, who repeatedly addresses sustainability in the ecosystem earth in his works, designed a multiple with 3 alternatives signed and numbered art prints of motives from his series "Spaceships on Earth".
Microscopic spaceships on earth
Together with the scientific photographer Stefan Diller, Andreas created electron scanning microscope images of amoeba dwellings that bear a striking resemblance to satellites or futuristic spaceships. The surprising connection between the microcosm of the earth and the conquest of space by man is intended to make us aware that mankind constantly draws from the infinite repertoire of nature for its progress and that we are all elements of the same network earth because every living being has a direct or indirect effect on the others.
"Sustainability is one of the four core values that guide the actions of CROWDCONSULTANTS. That's why we were so fascinated by Andreas' work and happy that we were able to establish this cooperation," explains Peter Bachsleitner, co-founder and Managing Partner of CROWDCONSULTANTS. "As with our consulting projects, we wanted to show that digitalization and sharing or recycling can be important drivers of sustainability – without loss of aesthetics and quality". Despite the use of recycled paper and digital communication instead of joint meetings, the project ultimately released around half a ton of CO2. This is to be offset by planting trees through an NGO founded by Andreas Greiner and artist friends.
About CROWDCONSULTANTS
CROWDCONSULTANTS is a pioneer in Consulting 4.0 and a hub for the topics New Work and Digital Transformation. The company wants to show the possibilities and advantages of self-determined, agile and sustainable work and thereby encourage organizations and knowledge workers to work differently. In its consulting projects, the company focuses on consistent digitalization, the principles of the Sharing Economy and crowdsourcing of intergenerational teams with self-determined work. This guarantees a high level of professionalism and competence combined with cost efficiency and sustainability as well as regular 5-star ratings by enthusiastic employees and satisfied customers such as the European Space Agency, EUMETSAT, DKMS, ING, Ionity, Knauf, STADA, Wittur, and numerous start-ups. The company has received several awards, including Top Consultant 2019 and the Grand Stevie® as Company of the Year 2018 and 2019.
About Andreas Greiner
Andreas Greiner lives in Berlin. In his mostly multimedia works, he deals with the complex interactions between humans and nature, the influence of humans on the biological and atmospheric processes of our earth, and the tension between the preservation of our planet and the exploration of space as an anthropogenic exit strategy. After international studies in sculpture, medicine, and anatomy, he completed his studies at the University of the Arts in Berlin as a "master student" of Olafur Eliasson. He has already received numerous prestigious awards, including the GASAG Art Prize of the Berlinische Galerie 2016, where he caused a sensation with an eight-meter-high chicken skeleton of a degenerated broiler chicken. In 2019, he was awarded the renowned Kaiserring Scholarship of the Goslarer Mönchehaus Museum, which he used to promote the appreciation of the forest as an important CO2 absorber and essential habitat for our ecosystem in the associated exhibition.
More on Andreas Greiner at http://www.andreasgreiner.com/
Please do not hesitate to contact for further information:
Peter Bachsleitner, Managing Partner der CROWDCONSULTANTS
peter.bachsleitner@crowdconsultants.com, Telephone +49 151 16323946