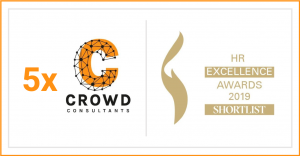 Berlin, 08/11/2019 – The CROWDCONSULTANTS have been shortlisted five times for the Human Resources Excellence Awards 2019. The jury of renowned HR experts selected the Consulting 4.0 pioneer among the best companies of 2019 in the categories "HR and Recruiting Consultancy of the Year", "New Work", "Employer Video", "Candidate Experience" and "Young Professionals". Only Deutsche Bahn and CROWDCONSULTANTS' network partner YeaHR have been awarded with more nominations this year.
"Our team is proud, that our young start-up, is not only nominated alongside, but even more frequently as renowned competitors in recruiting and management consulting. I am personally pleased, that we have also convinced the jury in a number of employer categories," says Peter Bachsleitner, Managing Partner of CROWDCONSULTANTS. "Through consequent digitalization, sharing economy principles and cross-generational teams with a high degree of personal responsibility, we have established a new work environment that is not only fun to work for our employees, but is also fun to work with and valued by our customers".

Jury convinced by consulting and staffing 4.0
CROWDCONSULTANTS have been nominated for the HR Excellence Award for the second time after 2018 as "HR and Recruiting Consultancy of the Year". In addition to numerous start-ups, more and more well-known clients such as DKMS, European Space Agency, EUMETSAT, Knauf or Stada are placing their trust in the company's recruiting at Executive Search quality with success-based remuneration. Instead of specializing in specific industries or positions, the CROWDCONSULTANTS focus on consistent process digitization as well as the integration of consulting, interim management and recruiting by cross-generational teams from a network of former top managers and entrepreneurial young professionals.
"Our specialisation is to concentrate on understanding our clients' needs and to help them to solve their challenges in the best possible and sustainable way through agile crowdsourcing of the right specialists. We often start with a consulting assignment or interim management whilst searching in parallel for a permanent placement," says Damiano Albrecht, Managing Director of CROWDCONSULTANTS. "This provides our clients immediate flexible support and sustainable problem-solving from a single, competent source with extremely competitive renumeration."

New ways in recruiting: "Meet the Crowdies"
The difference in go-to-market can also be seen in the HR marketing and recruiting of the CROWDCONSULTANTS. The "Meet the Crowdies" project is also shortlisted for the HR Excellence Awards in the categories "Candidate Experience" and "Employer Video". The company has developed a virtual reality application in cooperation with YeaHR! to answer the usual FAQs for interested candidates. It puts applicants in a video conference with CROWDCONSULTANTS employees who authentically answer questions about the unusual working conditions. In addition, there is a regular, unlimited live video meet-up, in which interested parties get their questions answered directly by the management and other team members called-in on demand.

Pioneer in new work
The CROWDCONSULTANTS do not only consult about new work, but live it themselves. "Our secret of success as an employer is our 'Work different' approach," Bachsleitner explains the other nominations in the categories "New Work" and "Young Professionals". The intergenerational teams work completely digitally without fixed offices. All positions in the company are filled by tandems to allow the individual employees for largely flexible working hours. The work models and benefits are also very flexible and as varied as the employees are – from individual health promotion and flexible holiday arrangements to active coaching and mentoring. By working in cross-generational teams, young professionals learn from former top managers and vice versa. Entrepreneurship, diversity, sustainability and fun at work as corporate values are regularly rewarded by employees with five stars at Kununu or Glassdoor.

About CROWDCONSULTANTS
CROWDCONSULTANTS 360 GmbH manages a network of independent experts that supports organisations in the sustainable successful mastering of digital, organisational and cultural transformations through recruitment, interim management and management consulting services. In contrast to classic "brick-and-mortar" consulting companies with a pool of permanent consultants, the company focuses primarily on crowdsourcing of cross-generational teams as well as consistent digitization and the principles of the Sharing Economy. This guarantees a high level of professionalism and competence while at the same time maintaining cost efficiency. In addition, the 'fun-to-work-for-and-with' corporate culture ensures regular 5-star ratings by employees and satisfied customers such as the European Space Agency, EUMETSAT, DKMS, ING, Ionity, Knauf, machtfit, Solid Power, Stada, Wittur or YeaHR!. The CROWDCONSULTANTS have already received several awards, including Top Consultant 2019 and the Grand Stevie Awards 2018 and 2019 for their numerous individual awards in various categories.
Further information can be found at www.crowdconsultants.com.

About Human Resources Excellence Awards
The Human Resources Excellence Awards recognize innovative lighthouse projects in human resources management. Forward-looking work and outstanding campaigns are awarded in 25 categories, subdivided into SMEs, corporations, service providers and start-ups. The HR Excellence Awards are presented by Quadriga Media Berlin GmbH and the magazine "Human Resources Manager". In 2019 the top-class jury of 44 HR experts from companies and organizations, including Steffen Brinkmann, Senior Vice President Global People Services at Continental, Gabriele Fluck, Global Director HR at s.Oliver, Sirka Laudon, Managing Director at Personal DB Vertrieb, Esther Loidl, Senior Vice President Global Human Resources at the Freudenberg Group, Prof. Dr. Jens Nachtwei, Professor of Human Resources and Organizational Psychology at Humboldt University Berlin or Peter Sticksel, Director Human Resources at Franz Haniel.
Further information can be found at www.hr-excellence-awards.de.
Contact
Peter Bachsleitner, Managing Partner of CROWDCONSULTANTS
E-Mail: peter.bachsleitner@CROWDCONSULTANTS.com
Telefon: +49 151 16323946